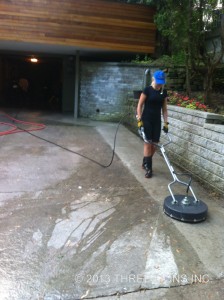 This procedure has BY FAR the most dramatic effect on homes – transforming them from dirty to spotlessly clean! Pressure washing is a highly skilled job. It has to be performed with care and patience. After completing over 80 projects through out Mount Pleasant we are confident that our methods are safe  and effective.
Commercial pressure washers are extremely dangerous if not used properly, but we understand the importance of their use. All three of us are professionally trained in the following:
Changing jet angles to prevent damages
Applying the right psi
The need of different jet spinners
The distance to hold the jets away from stone according to the type of paver
Note: different stones have different properties and a thorough evaluation must be made before doing any kind of washing
Feeling the pressure
Overcoming fatigue
Controlling wall lances
A streak free wash – consistent spinner movements and rotation play a major role
Great eye for details
Advantages
Prevent stones from permanent stains and discolouration caused by mold, fungi, algae, moss and grime, which can also make the surfaces SLIPPERY.
Common areas to Power Wash
Front stairs
Retaining walls
Top stones
Decks
Patio
Exterior wall wash is now available
Pressure washing is highly detailed work which can destroy surfaces if proper jets and lances are not used. We use up to 7 different jet heads and detergents to ensure effective and safe cleaning.
Equipment / Products
High psi pressure washers & Jet spinner
Efflorescence, Rust & Oil Stains
Efflorescence is when water carries a salt to the surfaces of masonry and evaporates leaving behind a chalky residue. Multiple applications of brushing  and spraying allow masonry to be free of oil, salts and rust.
Common problem areas include:
Steps
Walls
Brick and all other masonry
---
Now available is exterior wall wash and stucco stain removal using high quality Telescopic Lances with jet spinners made for stucco applications and brick masonry. Don't let stains and fungi take over your walls!